The Swag Shop is almost done and you will be able to buy a properly-sized an amazing union made GOAT t-shirt for yourself or your (adult-sized) friends! Remember the fun design?

We also get to offer one other thing:
EITHER
a trucker-type hat (a nice one in black with white mesh) with the Prateek/Rachel design from the shirts,


(example)
OR
a coffee cup with the design on one side and some words on the other side (or a different picture).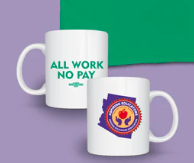 (example)
Both Tshirts and cups are $19.99, fulfilled by Worx Printing Collective. Please vote your option below and reply to this message with your suggestions for the writing/additional picture part on the mug if you think a mug is better than a hat. Please vote/suggest by May 29!
Black Trucker Hat with Fun Shirt Design
White Coffee Cup with Fun design PLUS words I suggest below
White Coffee Cup with Fun Design PLUS picture I provide below
None of the above, I already got a GOAT tattoo
None of the above, I have a different design idea below